<![if !vml]>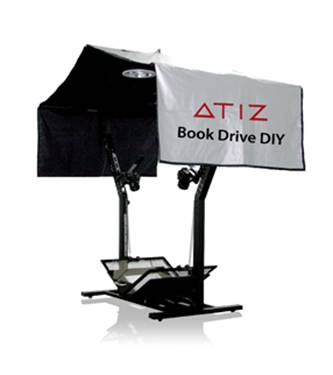 <![endif]>BookDrive DIY is the world's only digital camera-based scanning solution. In the past, flatbed and overhead scanners were the common tool we used for scanning documents.They were the right tools at the time. But they were very slow. To scan just one book using one of those scanners, you wasted hours and hours in flipping the book back and forth, and waiting for the scanner to finish scanning each page … very slowly.
Thanks to the advancement in digital cameras, now we have digital cameras that are inexpensive and can shoot millions of pixels in a fraction of a second, making it a better tool to capture information.
We take advantage of this fact and turn it into a great book scanning machine that can scan books at about 1,000 pages an hour and that produces superior images to ones produced by the traditional scanners. Whether you are a small school, a local library, or an imaging center, you can now afford a low cost, highly productive scanning solution. It is fast, affordable and upgradable.
How does BookDrive DIY work?
This book scanner captures 2 pages at a time using 2 overhead mounted digital cameras. To scan a book, just place it on the V-shaped cradle facing up. Press a capture button and the right camera will shoot the left page while the left camera shoot the right page. The images that come out are crisp color images.